G7 nations condemn Russian kidnapping of Ukrainians at Zaporizhzhia, demand return of facility
The Group of Seven invited Russia The Zaporizhzhya nuclear power plant was returned to full Ukrainian control on Saturday, following reports that Russia had kidnapped prominent Ukrainian employees from the facility.
The power plant was a major concern for both Ukraine and Russia during President Vladimir Putin's invasion of the country, posing a threat of nuclear disaster if damaged or left in disrepair amid conflict. The G7 countries include the United States, Canada, France, Germany, Italy, Japan, and the United Kingdom
"We condemn the repeated Russian kidnapping of Ukrainian leadership and staff and the application of other forms of pressure on the remaining Ukrainian staff," the G7 said in a statement. "These actions further weaken ZNPP's nuclear safety and security [Zaporizhzhia Nuclear Power Plant] By preventing key personnel from carrying out their indispensable functions. We strongly reject these reckless, cruel and dangerous acts and demand the immediate release of the detainees."
"We urge Russia to immediately return full control of the ZNPP to its rightful owner, Ukraine, to withdraw all Russian personnel from the facility, and to cease any attempts to recklessly and dangerously subordinate the ZNPP to Russian management, which could further jeopardize it. Our operations," the statement added. Safe and secure."
Ukraine's Energy Minister warns offline nuclear plant: "The world is once again on the brink of nuclear catastrophe"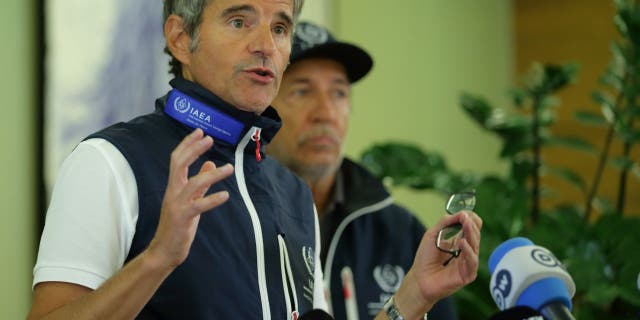 Ukrainian Zelensky's warnings of "radiation catastrophe" precede the report of the IAEA mission on Zaporizhia
The statement continued to reject allegations of Russia's annexation of the Donetsk, Luhansk, Zaporizhzhya and Kherson regions in Ukraine.
International Atomic Energy Agency (IAEA) A team deployed at the power plant In September it reported that the facility had been "severely damaged" by artillery shelling. Both Russia and Ukraine deny targeting the plant.
"The important first safety pillar of any nuclear facility is that its physical integrity is not violated," IAEA Director General Rafael Grossi said at the time. "Unfortunately… this has happened. This has happened and is still happening. A physical attack, intentionally or unintentionally – blows received by this facility that I can personally see and evaluate with my experts – is simply unacceptable."
"We are playing with fire and something very catastrophic could happen."
Ukrainian President Volodymyr Zelensky called on the UN forces to be posted in the facility and maintain it for the duration of the conflict.