Patriots' Bill Belichick avoids question on starting quarterback as controversy brews
The New England Patriots Mac Jones and Bailey Zappe both used during their 33-14 loss to the Chicago Bears on Monday night.
Jones started the match after missing a few weeks with a high ankle sprain but was out of the game after just three series with the last one ending with an objection. When Zappe came into place First drive, he threw a touchdown pass to Jacoby Myers.
CLICK HERE FOR MORE SPORTS COVERAGE ON FOXNEWS.COM
Zappe will help give the Patriots the lead in the second quarter. He led New England in three games, a 50-yard run that ended with a touchdown by Ramondry Stephenson. The Patriots were leading 14-10 but the Bears came back 23 points unanswered.
Looks like Patriots coach Bill Belichick wasn't too interested in this Revealing his game plan When it comes to playing Jones and Zappy. He said Jones' health was a "factor" in why both quarterbacks played but did not answer who would start Week 8 against the New York Jets.
Bill Burr's actions parsimoniously involved in ribs in plain sight, call cameras to stop showing 'sad' Mac Jones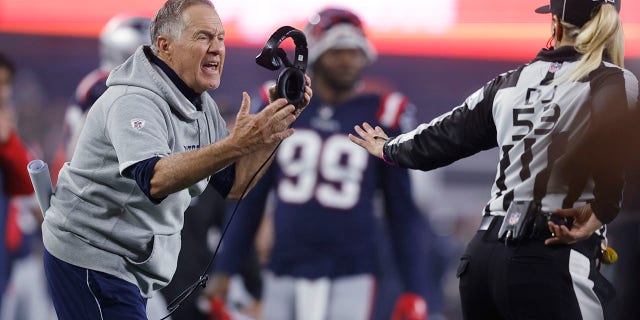 "We just finished the match," he said when asked about the start.
He said Jones' exit from the game was not a medical decision and had nothing to do with the objection he made. He said it wasn't a seat either.
"It's not what it used to be," Belichick said. "You can write whatever you want to write. That's not what it was."
Zappe finished 14 for 22 with 185 passing yards, a touchdown pass and two interceptions. Jones was 3-for-6 with a 13-yard pass and interception.