Washington's Nakia Creek Fire swells to 2,000 acres; thousands of residents ordered to evacuate
The Nakia Creek Fire in Washington State Its size quickly grew to 2,000 acres on Sunday, prompting authorities to order the immediate evacuation of more than 2,900 homes.
The fire, which threatens tens of thousands of Clark County residents, began Oct Yacolt Burn State Forest. The 156-acre fire was recorded on October 12, but has since exploded in size.
The wind-fueled bushfires were only 5% contained Sunday night, according to the Clark Regional Emergency Services Agency. The Public Safety Authority said in a statement that the fire was burning on a "slope" terrain.
"Firefighters are preparing direct lines of control along the sides of the fire," Clark Regional Emergency Services Agency wrote in a statement. "The behavior of the fires has been flaring and creeping with some noticeable, short-lived fires. There is still potential for fire growth and containment lines."
US sued for pollution after fire accidentally dropped into water flows
"Please understand that this is a very dynamic situation and if you are anywhere near this area you should take precautions to evacuate," the agency urged residents on Sunday.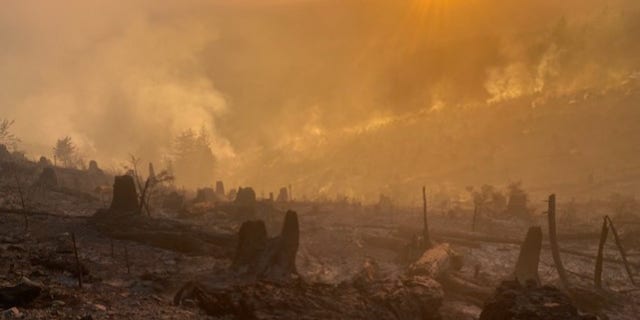 The Clark County Sheriff's Office He announced on Twitter that nearly 3,000 homes are under a Level 3 "Go Now" arrangement, while 5017 are under a Level 2 "Assignment" arrangement. 28,765 homes are subject to Level 1 notification and are urged to "prepare".
Case of iconic Easter island 'Moai' hit hard in the wild: 'Can't be restored'
Officials say the 2,000-acre figure is a rough estimate because the amount of smoke makes it difficult to accurately measure wildfires.
The Clark County Sheriff's Office confirmed that officials are trying to update the map of the fire area overnight, but it's possible that the new information won't be available until Monday morning.